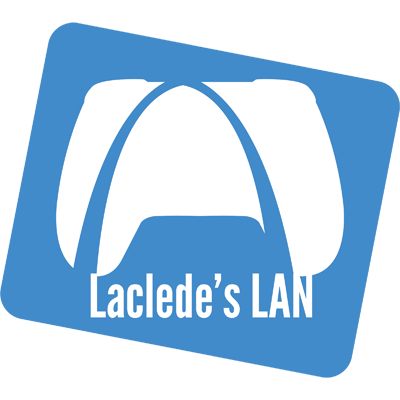 Stay Tuned for Announcements
What is Laclede's LAN?
Laclede's LAN is a Saint Louis LAN party group dedicated to building a charity-oriented LAN party community. All of our events raise funds for STEM education (K-12) in the Greater St. Louis Area. All of our staff are unpaid volunteers.
Our events are open and welcoming to gamers of any age or experience level!
What is a LAN Party?
What is a LAN party, anyway? In simple terms, a LAN party like Laclede's LAN is an event where attendees bring their own computer and get a designated spot to set it up at a table – and then spend the rest of the event playing games, competing in tournaments, and socializing with other attendees. You could also think of a LAN party as a bit like a car show in that attendees get to show off their custom-built hardware, often shimmering with a rainbow of hues from meticulously-placed LED lighting.
Being at a LAN, for a gamer, is essentially entering a room with a couple of hundred people that you're great friends with and you just don't know it yet. The potential for social connection, and even professional networking, is difficult to overstate. Laclede's LAN works hard to provide a variety of different activities and attractions to allow attendees to sample a wide variety of gaming experiences – conversations and introductions inevitably spring up around each enjoyable distraction. Some people arrive with certain games in mind – others will wander the event and join in if they see something fun happening. Still others will set up their PC, walk away to socialize… and might not play anything for hours! Between events, we stay in touch with the community through social media and monthly game nights.
Hosting St. Louis LAN parties since 2004!
See previous events