Hi there LAN friends, it's MissDynamite! I miss seeing you all at our LAN events, and can't wait to meet up again with everyone soon!
When social distancing started in March of 2020, it was hard on everyone. Not being able to go out and hang with your friends, or catch up over games and beers gets old! Loddy and I didn't go out a lot to begin with, but when we did, it was nice to be able to see friends' faces, and keep that connection with them because it just isn't the same over text messages. We hang out almost every night on Discord with some of them and talk while gaming, but one day we decided to turn on webcams, and it was a great idea. It changed up our interactions and made for a different kind of atmosphere. We were able to see reactions to jokes, facial expressions while fighting bosses in WoW, emotions while sharing real life stories, and so much more. We started planning Saturday night hangouts and played Jackbox Games, or virtual board games like Nemesis, Gloomhaven, and Cosmic Encounter. The more we did them, the more people showed, and it was a blast! Here's a picture I snapped of a group of us hanging out and just having fun.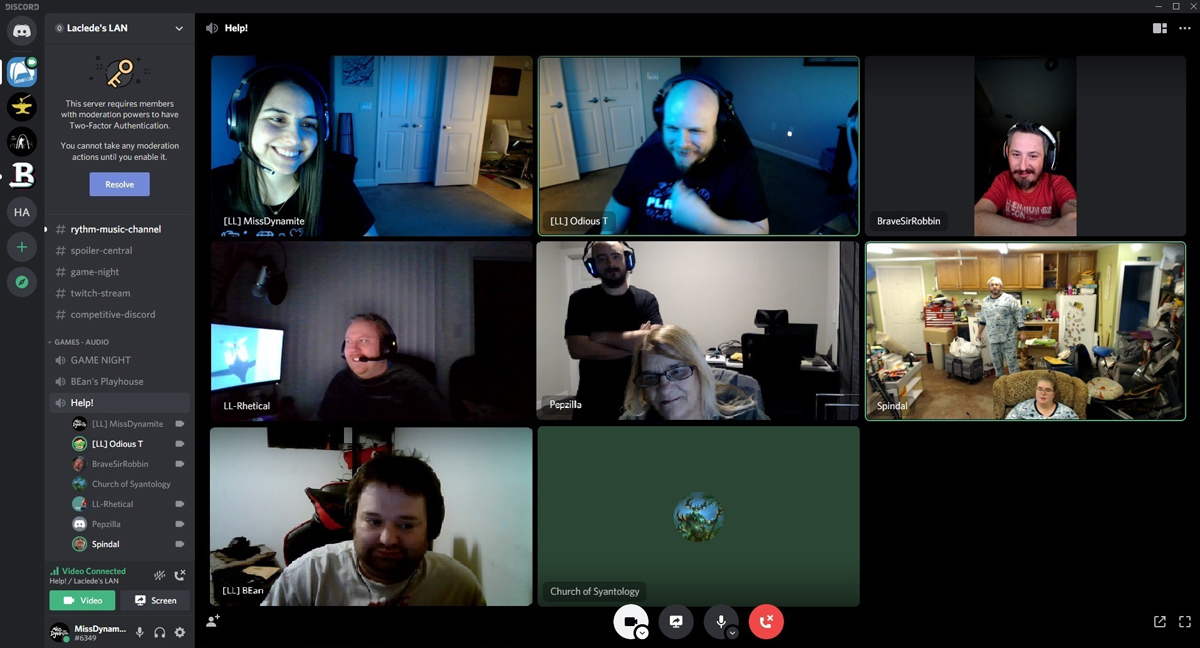 In this picture, you can see everyone so laid back and happy. Some of us are in PJs, some of us as drinking beers, some of us are tired (but still hanging on because we're having a great time); some brought our significant others to join the party.
As mentioned above, here's a brief overview of the games we played during remote times that were all done virtually:
JACKBOX GAMES is a wide variety of party games that only one person needs to own and the rest of the players can join right from their phone browser without installing an app. Games like You Don't Know Jack, Quiplash, Fibbage, Drawful, Trivia Murder Party, and others are great for everyone to easily pick up and play!
NEMESIS, heavily inspired by the Alien series, is a semi-cooperative game in which you and your crewmates must survive on a ship infested with hostile organisms. To win the game, you must complete one of the two objectives dealt to you at the start of the game – but whether you help your friends, or selfishly screw them over and take the last escape pod for yourself is up to you.
GLOOMHAVEN is a game of tactical combat in a persistent world of shifting motives. It's a fully cooperative RPG where players will fight against automated monsters using a card system to determine the order of play and what a player does on their turn. It has a full 95-scenario campaign, side quests, secret unlockable character classes and other surprise content that you discover by playing!
COSMIC ENCOUNTER is a game of interplanetary colonization and cunning negotiations in which three to five players become the leaders of unique alien species seeking to colonize as many planets as they can. Each of the 50 alien races has a potent or bizarre ability that they can call upon to help them… my favorite is the Sniveler, who can use the "Whine" ability when he's losing to force other players to give him stuff for free!
If anyone ever wants to join in on one of these game nights, we would love to set one up with you. Message Loddy and/or I (MissDynamite) on Discord and we'll take care of setting it up!
Thanks for stopping by and reading!
-MissDynamite