It was 2004. Intel's Pentium 4 had just introduced the world to hyper-threading, Valve's buggy new Steam platform was frustrating gamers everywhere, and massive 17" CRT monitors were the norm. In Saint Louis, Missouri, BraveSirRobbin, Dickie, Dudsmack, and Lodsiek decided to expand their private LAN parties. Opening to the public sounded like a great way to make friends and the perfect excuse to justifying buying toys equipment that would be overkill at home. Although Dickie and Dudsmack hosted two open LAN parties previously while attending Mizzou, creating a public organization in Saint Louis was an exciting step into the unknown. The first Laclede's LAN branded LAN happened August 2004 in the kiddie corner of a church's basement in Ballwin Missouri. Between 2004 and 2008 there would be 12 more "prime" events with the largest drawing 248 PC gamers from as far as Western Canada. In addition to a few smaller "LL Lite" events for our most loyal fans, there was one event that provided a whiff of the future to come: Hurricane Katrina Relief LAN, our first charity LAN.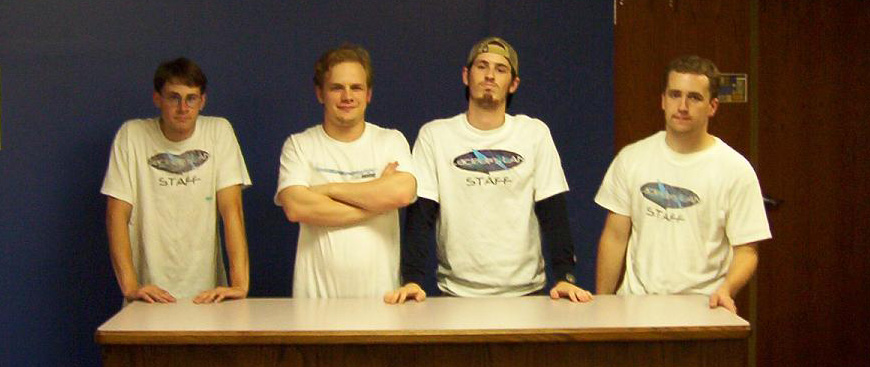 Throughout those four crazy years we learned many things and made long-lasting connections and friendships with the community. When we started LL we had no idea if it would grow or where it would take us - but it had become a huge part of our lives. In 2008 it was with heavy hearts that we decided to take a break after our event Laclede's LAN 13.
Reboot
In 2014 Allhawkeye proposed to the group that we host an anniversary LAN to commemorate the first event in 2004. After a short discussion we quickly came to the conclusion that we were ready to reboot LL completely. However, it seemed clear that LL should provide a clear benefit to be worth the time and effort, and so the idea of making LL a charity/non-profit organization was proposed. It was decided fairly early on in the process that we wanted to target promoting the future of Saint Louis as a technological oasis, so we focused on ways to connect the enthusiasm of our community for technology with the need for young tech-savvy professionals in our city. As part of the push, the LL staff started by teaching a one-day class on computers to middle school kids at Saint Louis University. Excited about our newfound purpose, we began to plan Laclede's LAN 14.
Saint Louis University was gracious enough to provide our location - but now we dealt with the reality of servers, network, and electricity. We decided to present our idea to the community via a Kickstarter campaign in July 2014. Our campaign received a lot of attention but despite raising almost $7,000 we didn't reach our goal in time. Fortunately, somewhere in our page full of videos and prose dedicated to our love of LANs, we caught the attention of LANFest.
LANFest is a national, non-profit organization dedicated to supporting charities, providing great exposure for their sponsors, and (perhaps most importantly) having fun. After meeting the LANFest team, we were excited to become their Saint Louis chapter. By working with LANFest we were able to borrow the needed networking gear and connect with all the sponsors needed to make our reboot achievable.
Present Day
Laclede's LAN 14 has come and gone, and after knocking the rust off, we're still iterating, improving, and looking for more ways to throw the best LAN parties around. Over the years, we've had help from countless community members and friends who love what we do and what we represent. We encourage everyone to get involved! Laclede's LAN is a community – it always has been – and we rely on YOU to flourish!
Staff members and volunteers have come and gone over the years, but without all of them, Laclede's LAN would never have grown to become what it is. Their hard work is still influencing LL today, and is a big part of why our community is so important to us.